How our Salt is Made
Our Salt is harvested from the clear waters of Siwa inland brine. Our Solar Salt ponds located right at the top of the south Siwa Oasis . These waters of Inland Siwa brine are evaporated using the natural process of sun and wind. At the end of each summer, our Inland Siwa brine Natural Salt is carefully harvested from our ponds. Siwa Natural inland brine Salt contains higher levels of Calcium, Magnesium and other minerals than normal table salt, as these minerals are naturally present in seawater. Because the rate of evaporation and the success of salt production depend on local weather patterns, it is an uncertain business and one that must follow a yearly cycle. Because of the complex constitution of brine , many species other than NaCl can precipitate from solution. Therefore, the production of Our salt involves a sequence of fractional crystallizations. Total crystallization of the dissolved solids from Siwa inland brine. As evaporation proceeds, fortunately, it is possible to harvest NaCl selectively. With the composition 97%.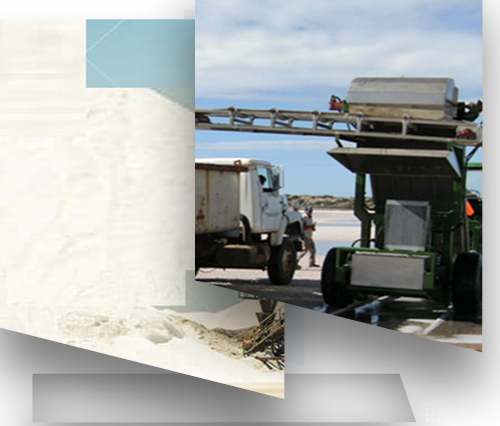 The harvested salt is loaded into trucks and transported to a wash plant located in Siwa, where the salt is washed with clean, nearly saturated brine to remove particulate matter and to replace magnesium-laden brine clinging to the salt crystals. Wash brine, made by dissolving fine salt in a settling pond, is free of magnesium and sulfate impurities.
The wash brine is recycled that dissolves the fine salt collected during washing. Weak brine is sometimes used as a final salt wash; however, production losses by dissolution are increased. After washing, the salt is stockpiled and allowed to drain. solar salt will drain, with time, to a moisture level of _3.5%.
Further processing is making in Minya Factory to processing salt.by Hydromilling technique thereby the salt is washed,,centrifuged, drying kiln Dried , crushed, screened and separated into various grades . Coarse solar salt is a premium product because of high purity and relatively large crystal size, making it quite suitable for use to regenerate cation-exchange water softener resins, textiles and laundry detergents. Crushed, fine, dry, screened salt. Rewashed kiln dried and screened to capture extra fines. Where the salt is used to make brines, it may be necessary to filter the brine.